Even though many foreigners recognize Thailand as one of Buddhist countries because of the estimated 90% of population are Buddhists. Thailand still has a lot of other great artistic religious places all over country. At least, there are more than 500 places including Bangkok temples, churches, mosques and other shrines. If you are architecture lover and cultural wonder. Let's visit one of fascinated Bangkok temples on Silom road, near our Everyday Bangkok Hostel. Locals here call it "Wat Khaek"(Hindu temple) or Mariamman Temple due to the title of Hindu Goddess Sri Mariamman; The God Siva's queen.
          The Mariamman Temple is located in Silom,one of Bangkok business area, was built by the Indian immigrant residents in the period of King Rama IV in late of 1870s. Most of them are gemstones traders and cattle ranchers. Inside this South Indian architecture style Hindu temple, there are also the statues of other Hindu Gods and Goddesses. In the center of temple, there is a small Hindu temple where Shiva lingam is located. Thus, it is one of oldest Hindu temples in Thailand. It was only private place for indian residents in the past. Nowadays, it opens more to the public from worshippers of other gods, also the believers in other religious. Most of the visitors coming to temple are Thai locals and tourists.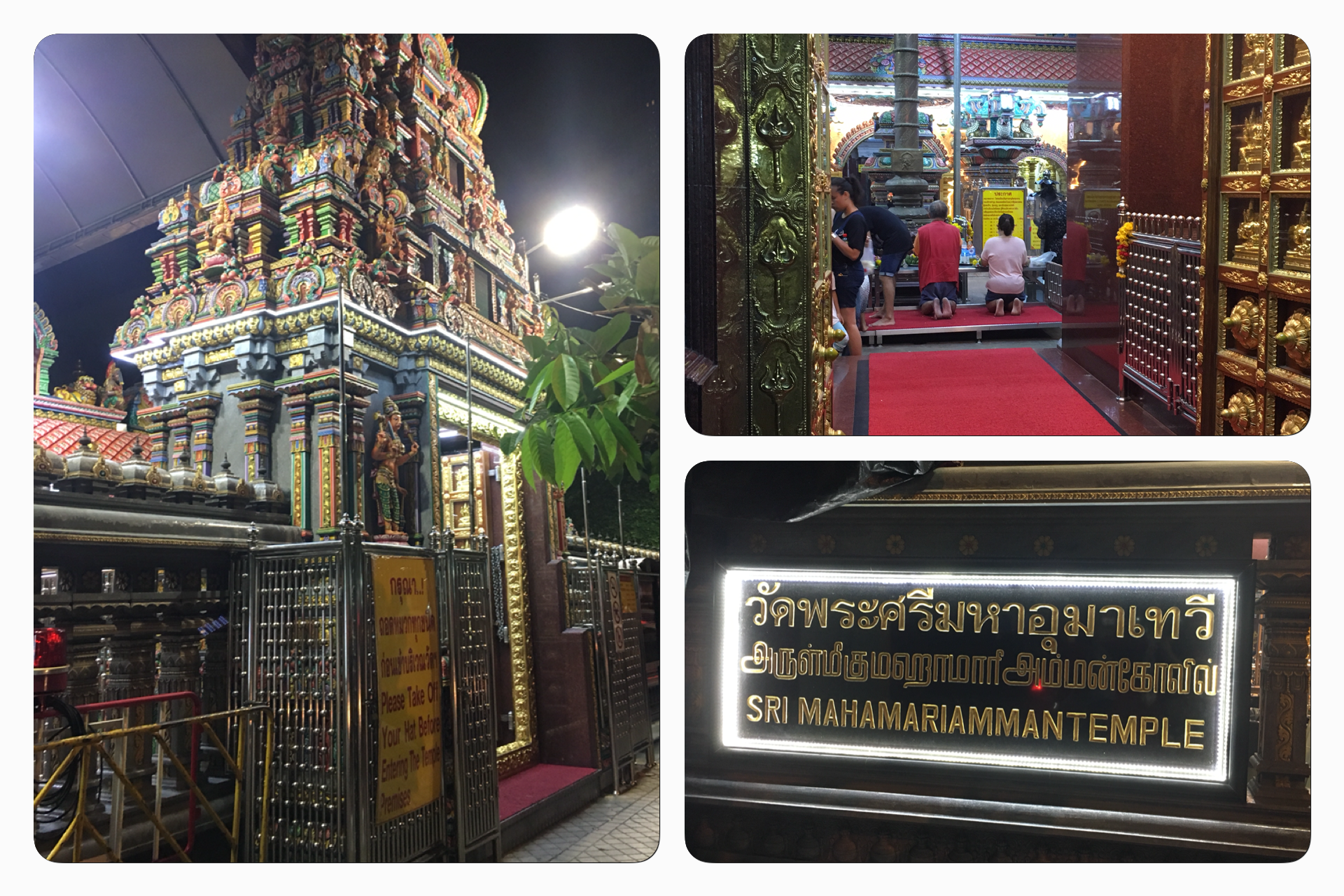 Although, this temple is one of important Bangkok temples for the Bangkok Tamil Hindu community, it is quite famous among Thai people as well. Most of the visitors come here to pray with goddess Mariamman, who is known as the goddess of mercy and elegance. Some of the them worship and pray for good wishes with many reasons such as Love life, Luck, Money or Fortune. You'll see many stalls and shops outside selling some offerings to the visitors. There are some offerings such as milk products, sweets, coconut and other fresh fruits. There are also some clothings called Sari (female indian style garment) and garlands made of Marigold flower.
          We can take a long walk about 1.5 km. from Everyday Bangkok Hostel to this temple.
Begin from the front of the hostel. Turn left and take a walking down the Sap road to the South until you notice the first intersection on Surawong road. Turn right and walk about 5 mins.  You'll see the sign name of Decho road, turn left into the road. Walk down until you see Decho Junction connected with Silom road. Turn right and continue to walk. Mariamman Temple is on your opposite left side.
          Or you can choose the metro and bus together. First, start at MRT Samyan and get off at MRT Silom. From there you can take the Bangkok bus that go along the Silom road.
The bus line numbers are No. 15, 77, 115, 163,164,and No.504.
Opening hour: Daily 6 a.m. – 8 p.m.
Entrance Fee: Free
          It's nothing better to end your one  day trip in Bangkok after exploring  through city than find out the best hostel in Bangkok for soft warm bed and pillows. Having a good time meeting with other travelers in cozy common room and chill bottle beer. Check out our room at www.everydaybangkokhostel.com and you'll get new experience for stay at hostel in Bangkok.
LittleSparrow