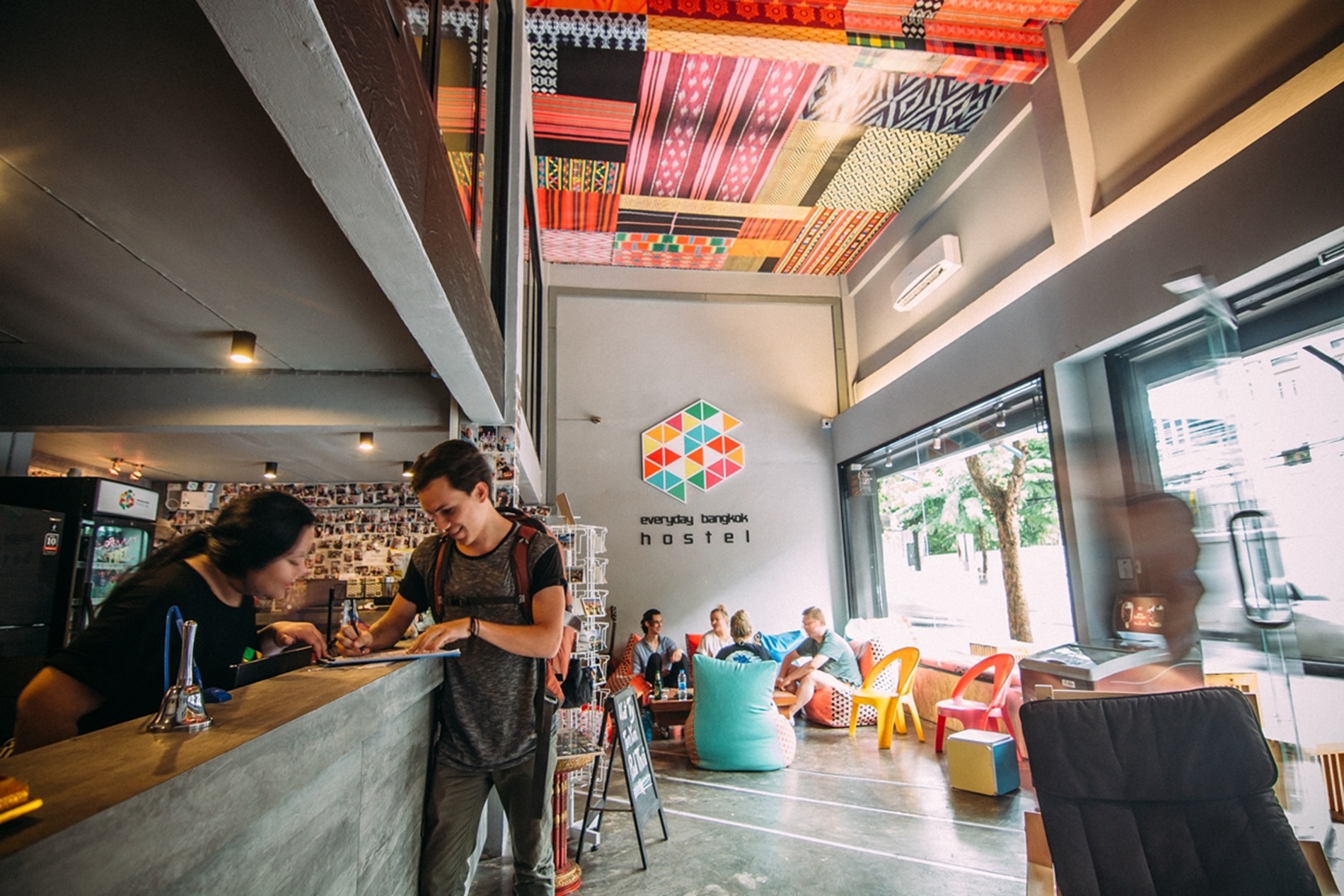 After one day trip in Bangkok, what do you think about what to do next? Hot shower? Grab tasty food? Roll in the clean bed? Yeah! That's right, isn't it? Let us welcome you to our hostel. We have all above you that are looking for and even more with our place. Let's explore what a daily life in our Everyday Bangkok Hostel is.
Lobby area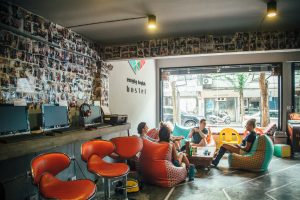 Just a step you walk into our hostel. There are some computers, chairs, sofa and comfy colorful beanbags that the guests can chill out on while waiting for the room. Smoking is prohibited inside the property, but you can do it in the front of our hostel, hanging out with other travelers. If you are looking for a lite midnight meal and don't wanna go outside. There is Ice-cream fridge, Beverages and Snacks Bar. You can take some small things like a toothbrush, toothpaste, padlock or a detergent for the clothes here, too.  
Common room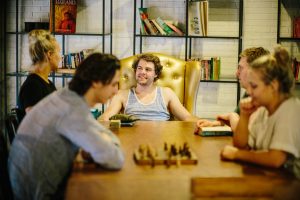 After take off your shoes at the stairs before walking up, you'll be in the middle of our common room where you can enjoy the movies on TV, books and boardgames on the exchange shelves. There is a kitchen where you can store your food in the refrigerator, a hot kettle, a toaster and Microwave oven. There is free tea, coffee and cocoa. Don't miss our "Exchange food" which you can share yummy food among other traveller guests.
Shared shower rooms
           Our hostel has shower rooms divided to "Gentleman Shower room" and "Ladies Shower room" in separate floors. We provide hot shower, shower gel and shampoo. There is also a hair-dryer in the bathroom. If you want a towel. Ask for it with our friendly staffs.
Washing machine and clothes dryer
            We have no laundry service but you can exchange some coins for doing laundry by yourself with the reception. The washing machine takes about an hour. You can hang clothes on balcony at the 3rd and the 4th floor.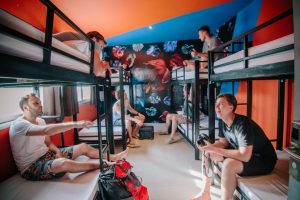 There are a lot of hostels in Bangkok to choose from, you just have to find the right one that suits your personality, style and budget to make your stay as meaningful and comfortable as possible. You may check out Everyday Bangkok Hostel and find out more about the facilities they can offer and see if your hunt for the guest house in Bangkok is about to end!'
LittleSparrow