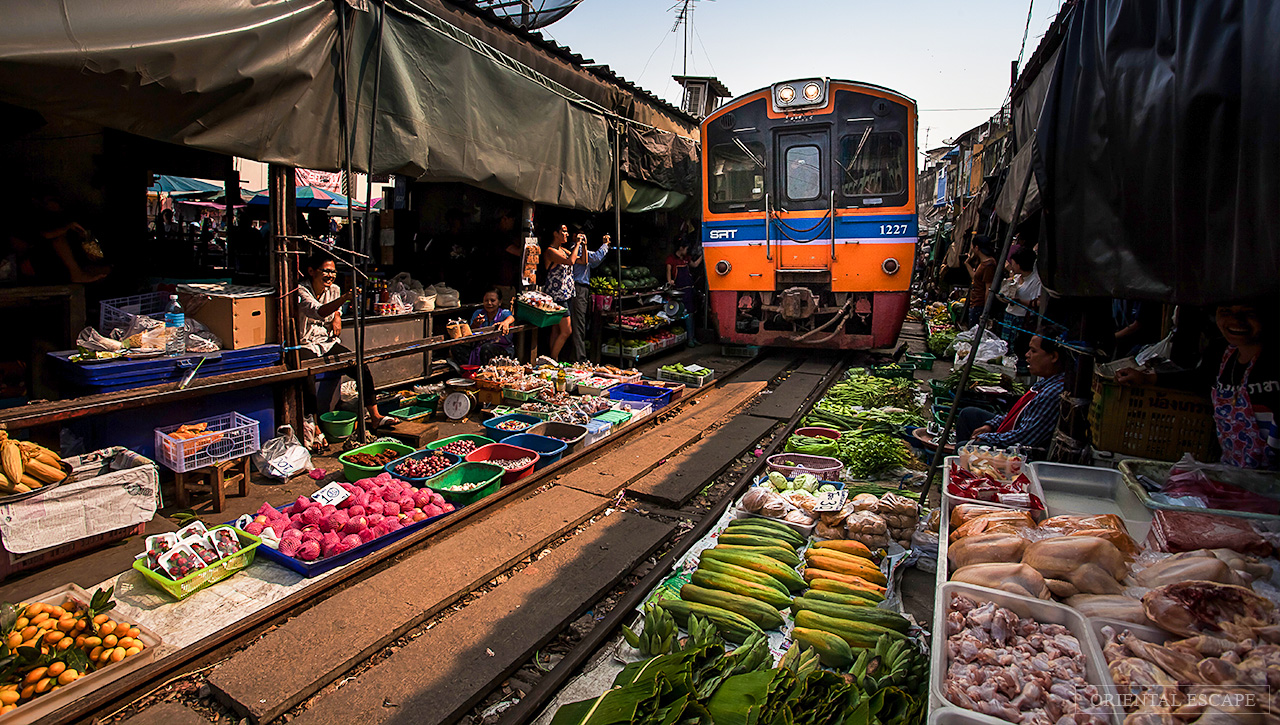 Markets are one of the places to visit in Thailand and in many Southeast Asian countries.Especially, local markets in Thailand which are concerned to be a part of Thailand's charming ones. Try to imagine fresh market which sets along sides of the railway.There is a lot of people walk through and buy goods such as fresh seafood, vegetable and various colorful fruits. When a train is coming, those vendors will close their awnings to make rooms for the train passing. Here we are at one of the most famous places to visit in Thailand : folding umbrella market: Talad Rom Hub or Maeklong Railway Market.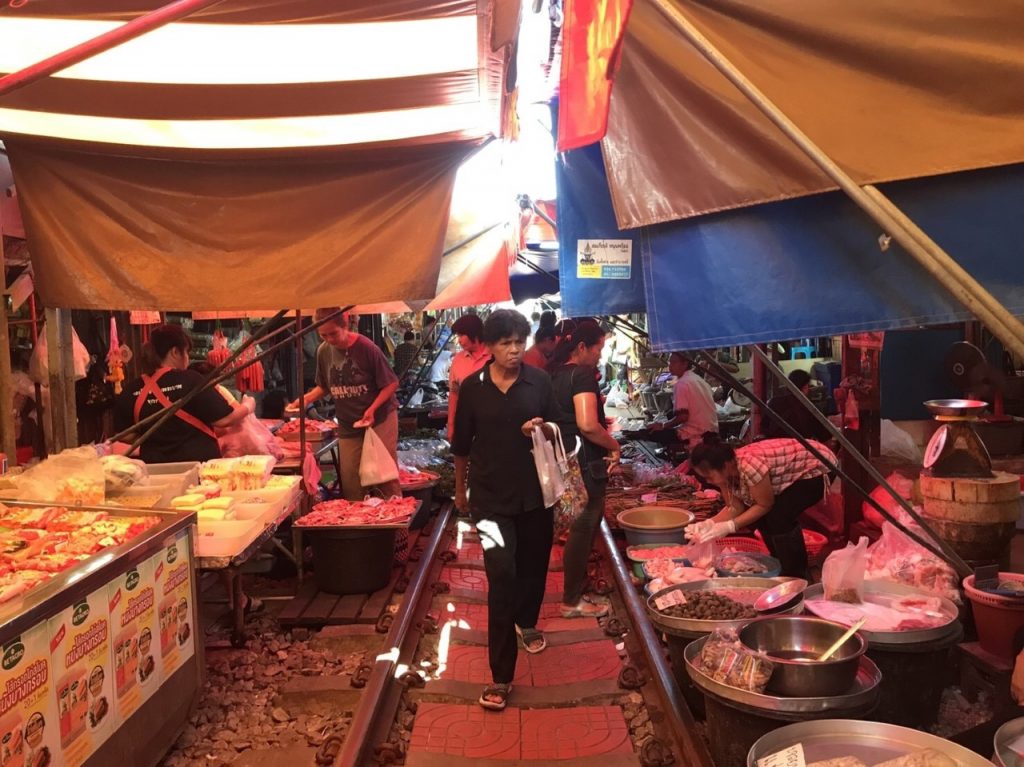 Maeklong Railway Market  is one of the best places to visit in Thailand, located in Samut Songkhram province. It is well-known as Talad Rom Hub ("Rom Hub" literally means "Closed Umbrella") It is a local market that set up along the railway in of the route of "Bann Laem – Mae Klong" It is a kind of daytime market from the morning until early evening. There is a lot of people walk through and buy goods such as fresh seafood, vegetable and various colorful fruits and other groceries. Then they hear the Train whistle, local merchants quickly move products when the train comes they fold up all the tents and move everything out of the way. When the train passes by they set everything back up again in few minutes. The train pass through Maeklong Train Station 8 times a day since the morning to the evening.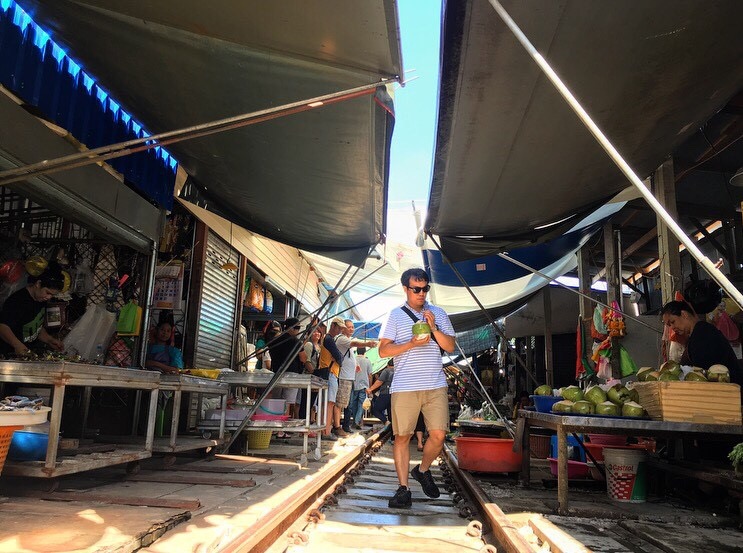 How to go to Rom hub folding umbrella market from Bangkok?
          By Public transportation: You can choose to travel to Talad Rom Hub by train or by mini van. From Bangkok, you can take the train from "Wongwian Yai Railway Station" (You can take the skytrain on BTS Silom line to go there). There are 2 different train you can choose; 1) WongwianYai-Mahachai or 2) Bannlaem-Maeklong train. Please check carefully about the train schedule at least the day before you travel. If you'd like to go to the market directly, take the mini van from "Pinklao Mini-van Station". You can choose between a mini-van to Maeklong market or to Amphawa floating market. The price of ticket one round trip per 1 person is less than a hundred baht.  
By our tour trip: At our Everyday Bangkok Hostel, there is a trip of "Amphawa Floating Market & Train Market". Our friendly staffs are more willing to help you guys for that. You can check more information of this day trip at http://www.everydaybangkokhostel.com/amphawa-market-train-market/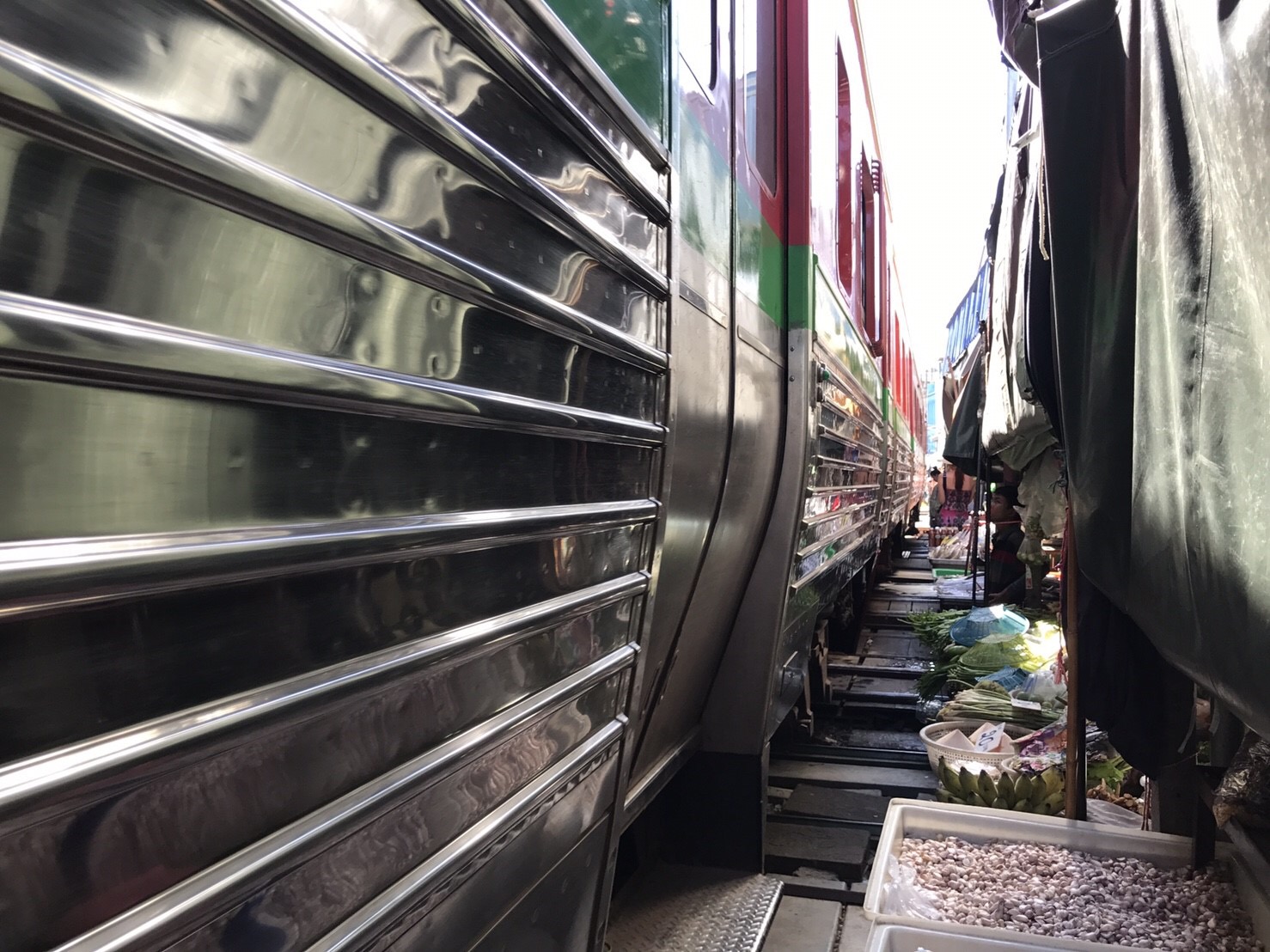 Let our Everyday Bangkok Hostel offer you a memorable moment with peaceful place during your stay, lead you through experience new dazzling cultural and lively living life-styles in Bangkok. With nice accommodation and friendly staffs ready to your wonder of any information request. Check out this one of best guesthouses in Bangkok room rates at www.everydaybangkokhostel.com Have a good trip and See you soon!
LittleSparrow