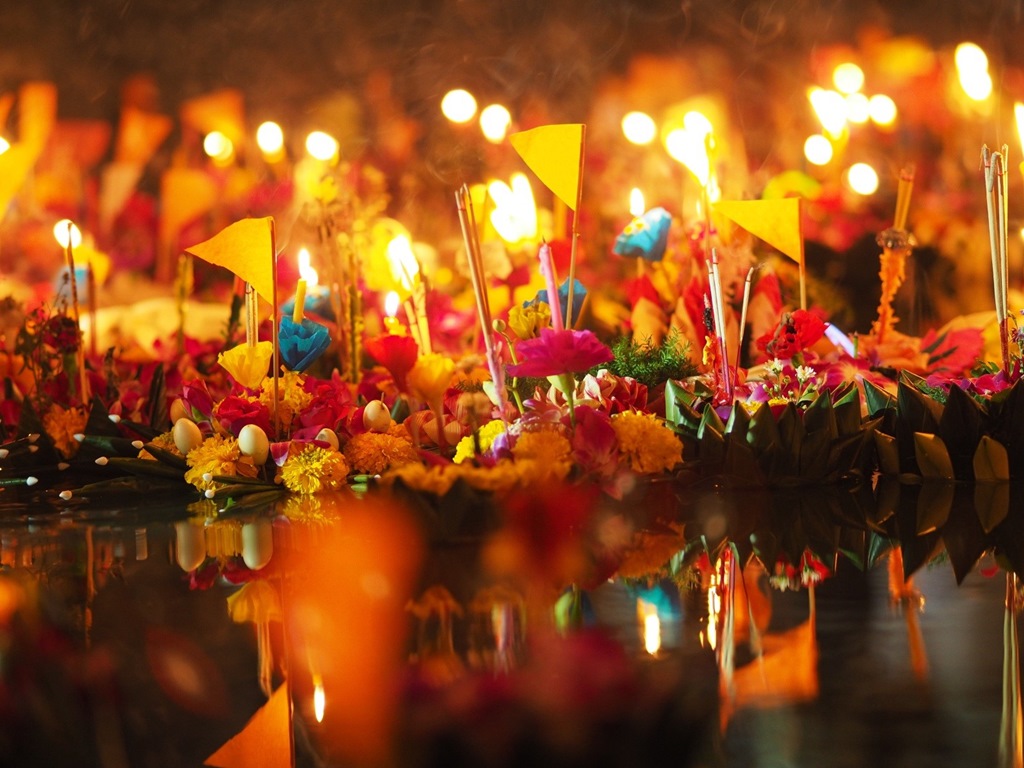 Loi Krathong is one of the most popular and famous Thailand festivals besides Songkran water festival. It takes place on the evening of the full moon of the 12th month in the traditional Thai lunar calendar. There is no exact date of the festival but estimated time usually falls in November. In 2017, Loi krathong day will be celebrated on 3rd November.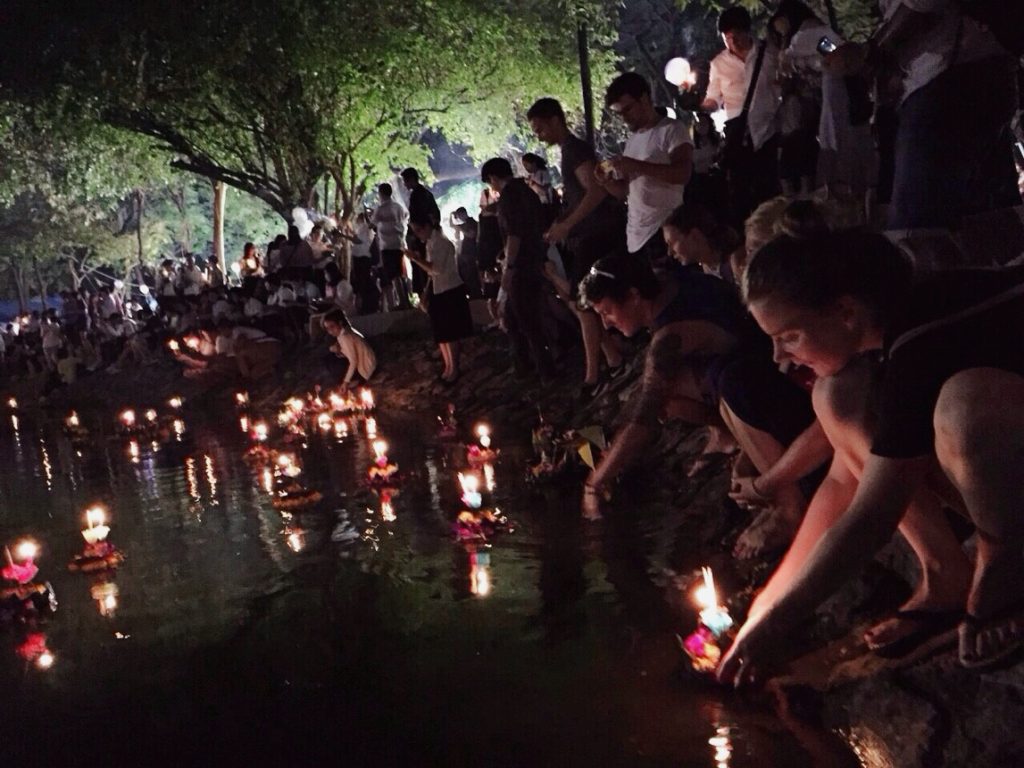 The Loi Krathong festival is also known as one of Thailand festivals represents the covenant between the Thai culture and the water. "Loy" literally means "to float" and "Krathong" is a kind of raft or small boat made and decorated from leaves and colorful flowers to pay respect to the goddess of river spirit. The background of this tradition is the belief that together with the raft, the sins and mistakes of the past year are washed away and room is made for new happiness in one's life.

          Thai people celebrate this festival nationwide all over the country, cities to the provinces. One of the famous Thailand festivals are in Chiang Mai, Ayutthaya and Sukhothai, where they partially continue the celebration for several days.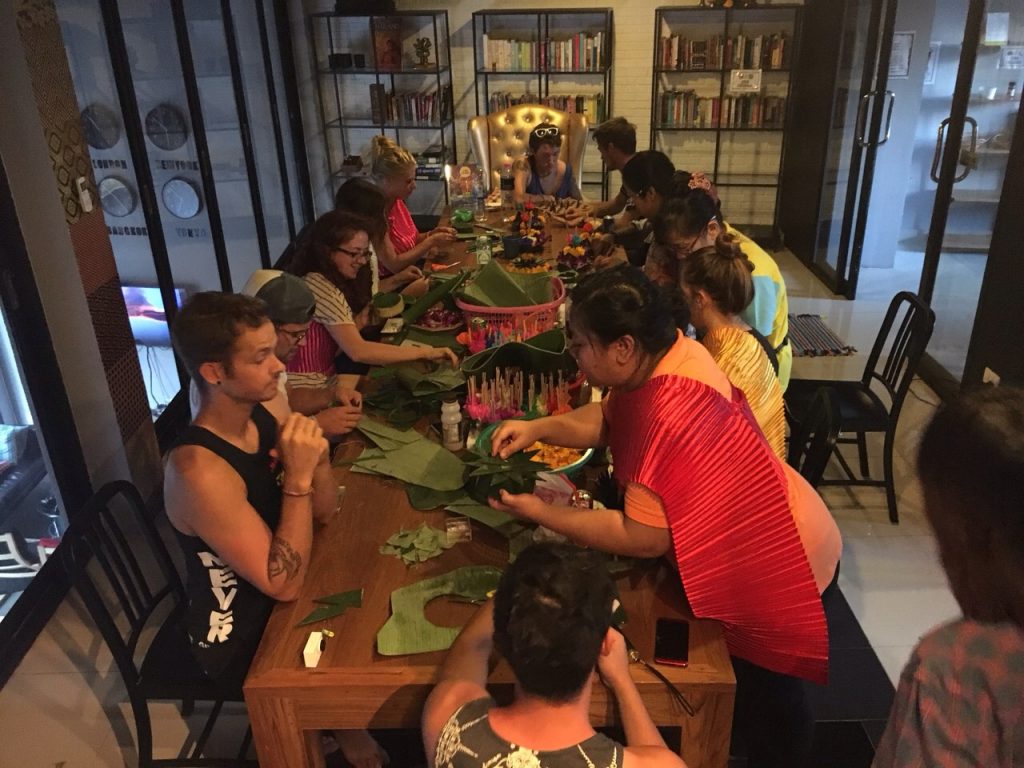 Everyone, may we introduce you guys how to make your own lovely Krathong.
Place your base part of krathong. It is a slice cut of banana trunk. You can make it with simply cut like a circle shape as the same size of small dish. Make sure to make its edge smooth
Fold the long strip of banana leaves into the triangle shape or others(There is a lot of patterns and forms that you can choose from the internet). Attach the leaves around the slice banana trunk with pins.
Add more another layer of banana leaves onto the sliced banana trunk.  Cut and trim the leaves to make it same level with the banana trunk width. You can create different patterns of the banana leaves
Decorate your krathong with those colorful flowers. Then put a candle and three incense sticks. Some people put small coins for luck and some people put some of cut from nail and hair according to their belief that it will bring out the sickness away from them.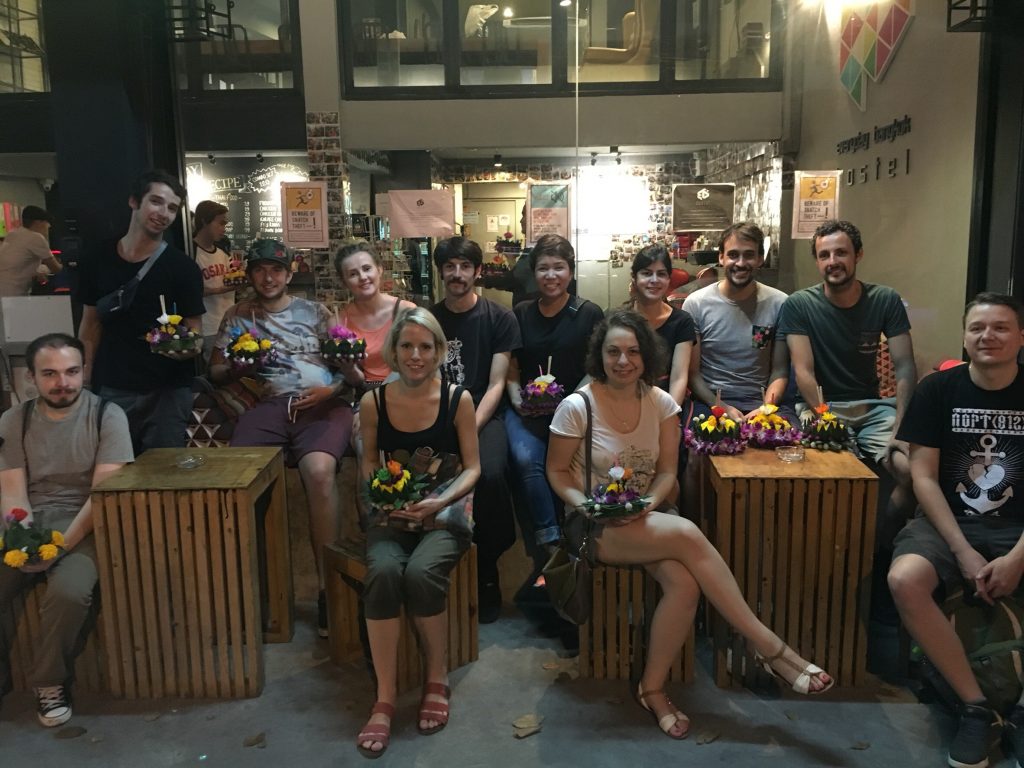 What are you waiting for? Come and join us at Everyday Bangkok Hostel.
           Let our hostel in Bangkok offer you a memorable moment with peaceful place during your stay, lead you through experience new dazzling cultural and lively living life-styles in Bangkok. With nice accommodation and friendly staffs ready to your wonder of any information request. Check out this one of best  guesthouses in Bangkokroom rates at www.everydaybangkokhostel.com Have a good trip and See you soon!
LittleSparrow